With more and more people carrying cameras with them everywhere, 'digiscoping' has increased in popularity. Digiscoping is the practice of pointing a phone camera or digital camera through a pair of binoculars or a spotting scope to increase the zoom and take photos of birds that are really far away.
Trying to do this by holding your phone up to a scope or binoculars is very difficult and tedious. It often requires the cooperation of two people: one to hold the camera and position it properly, and the other to find focus and press the shutter button.
I did some research on ways to do this easier and found the Hookupz iPhone Adapater for binoculars and scopes. Hookupz is a case for the iPhone and Samsung Galaxy S4 that has a rubber ring around the camera that fits snugly onto the eyepiece of binoculars or scopes. The case itself is comprised of three pieces: a rubber skin that goes around the phone, the plastic shell that fits around the phone , and two different-sized rubber rings that fit into the plastic shell.
The Hookupz can only be used on a case-less phone, the fit is too precise to allow for extra bulk.
Here are two photos I've taken through scopes using this case. My regular camera wouldn't have been able too zoom in this far to get the shot!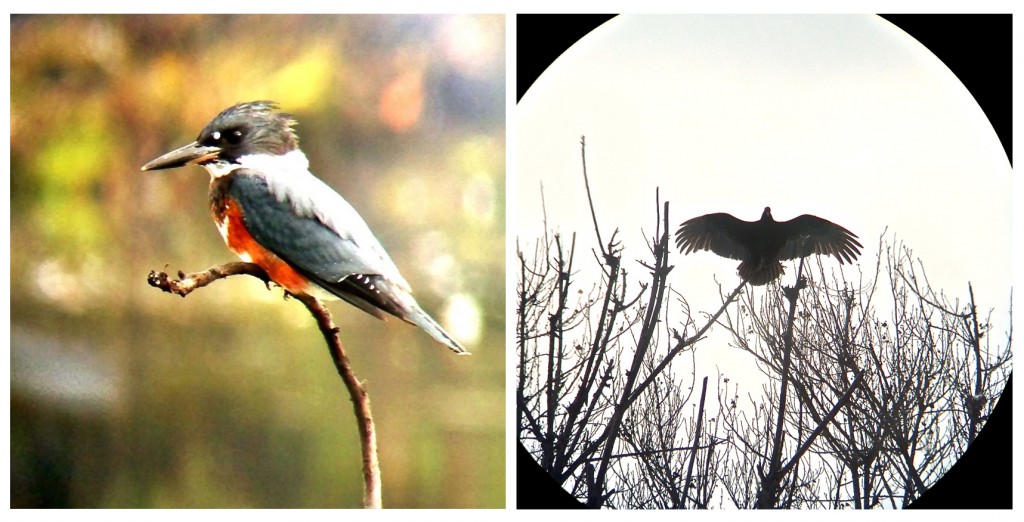 The good
After the phone is in the case, it easily and quickly attaches to binoculars.
The alignment is spot-on and it you get a clear shot through the binoculars every time.
Since it includes two different sizes of attachment rings, it fits securely to my binoculars without the worry that it's going to slip off.
The bad
The cutouts to access the volume or lock button are pointless. The plastic shell is so thick, and the rubber skin so squishy that it is impossible for you to lock your phone after you're done taking a photo. You have to pull the phone/skin out of the shell every time you need to lock the phone. This is a really big oversight. It is important to be able to easily lock and unlock my phone frequently while out in the field. I take notes and write down bird names/log birds and having poor access to the lock button slows me down or hurts battery life if I don't lock the phone immediately. The plastic should be thinned or bezeled near the lock button so that it can actually be used.
It doesn't work with cases. I know many people that use their phone with a case, and most are a hassle to take off. I'd like to see Carson design an attachment that slips overs the phone regardless if a case is being used.
Overall, I would (and have!) recommended this case to others. Being able to take a photo through a scope that someone has positioned is awesome. Even with the drawbacks, I still have found this product very useful and people always ask me about it when I'm using it on bird walks.
The Hookupz binocular adapter case is available for iPhone 5, iPhone 5s, iPhone 6, iPhone 6 Plus, and Samsung Galaxy S4 ($12 – 23)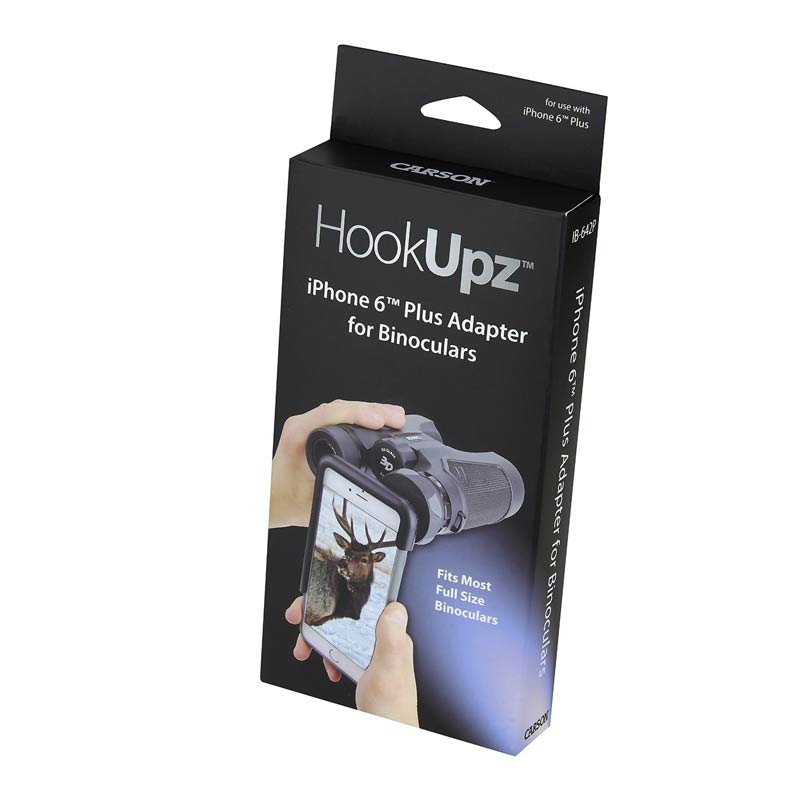 Leave a comment!