Birds are becoming more and more colorful as spring gets closer.
I went birding Saturday morning at the Sepulveda Basin Wildlife Reserve in the San Fernando Valley. The bird walk was led by Kris Ohlenkamp, the man who organized and oversaw the Christmas Bird Count for the area.
Our plan was to meet the group there at 8AM to begin. We arrived about five after eight and as we got out of the car, we realized that when we gathered our things before we left, the camera was left at the house! Don't make this mistake, always check that you have everything with you! We turned around and went home to get the camera, as we were driving out of the reserve, we saw some gorgeous blue Western Scrub Jays (if only we had the the camera—ugh, again).
The weather that morning was warmer than the last time we were there, and it alternated between being sunny and a bit of overcast. Birds were in great abundance, you could hear calls and songs from all directions.
The first interesting sight that day was a Great Egret sitting at the top of a tree! I've never witnessed them doing this before, so I was taken by surprise. Not soon after I snapped some photos of it, another egret flew up to it, scared it, and claimed the spot for itself.
As we were walking to catch up with the group, we saw some Scrub Jays running around by a tree, looking for food, and I spotted a lone Western Blue Bird perched on top of a tree looking at the landscape. The entire morning was accompanied by the sweet sounds of the many Song Sparrows that were around.
We caught up to the group near the west side of the lake, where they were focusing the birds that were swimming along the surface. The usuals were there: American Coots, Mallards, Pied-billed Grebes,; but today we saw a first-timer for me: the Ruddy Duck. I was less-than-impressed due to it not having the bright blue bill that I've seen in photos. But since it wasn't in breeding plumage yet, it was just a plain dark brown color.
Continuing around on the path around the lake, we saw Spotted Towhees and California Towhees, as well as a California Thrasher. The Thrasher looked a bit similar to the Cali Towhee, but larger and it had a unique, pointed, downward-curved beak.
Arriving at the next viewing spot of the lake, we saw many Red-winged Blackbirds in the trees around us. A fellow birder quickly pointed out a Common Yellowthroat in the bushes near the shore. I got super excited as this was only my second time seeing this bird. I hoped to get a decent photo of it, but it was too quick and evasive, so no dice.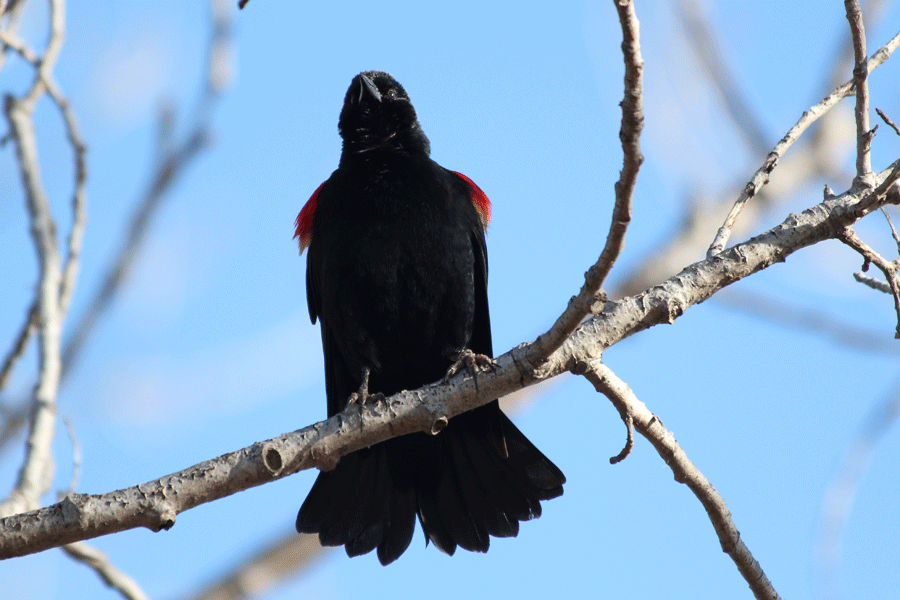 There were many Anna's and Allen's Hummingbirds around in the trees. Whenever I hear their distance metallic/digital sound I always look up and spot one in the tree.
An American Goldfinch and Lesser Goldfinch were hanging out in a tree adjacent to the river, both new birds to me. They were very yellow, but easily blended in to the surrounding trees.
Some Osprey were flying around in the sky along with some Turkey Vultures, they were also perched in the trees on the island checking things out as we were making our way back to the car.
I saw a group of school kids walking the opposite way of us, and they were all gawking at a Red-tailed Hawk that was standing in the middle of a field devouring some breakfast that it just caught.
As we were almost back to our car to head out, we spotted some people with cameras pointed at tree, they were looking at a Great-horned Owl! I was really excited about this, as I heard from our group leader that they spotted one at the beginning of the bird walk. This was a very, very special occasion for me, as it was my first time seeing an owl! It was sitting in a nest relaxing, occasionally opening one of its eyes partially. The men with cameras were hooting and calling at the owl trying to get it to open its eyes wide to snap a nice photo. It didn't work.
Check out the full list of birds I saw on Saturday here on eBird
View recent bird sightings at Sepulveda Basin on eBird
See more upcoming bird walks for Sepulveda Basin and other locales here