Gaining personal fulfillment has been on my mind a lot lately. I've wanted to make a difference with birds and get a chance to work with wild ones for a while. A quick google search pointed me to a few different volunteer opportunities in Southern California. The one that stuck out the most to me was volunteering at the International Bird Rescue in San Pedro, California.
A quick correspondence with them and a date was scheduled for volunteer orientation. I arrived and joined a group of about 10 other people and sat down.  We watched a presentation given by Neil that told the history of the organization and what to expect from our time spent volunteering there.
On January 19, 1971, two Standard Oil tankers collided near San Francisco's Golden Gate Bridge, resulting in a spill that covered 50 miles of coastline with 2,700 cubic tons of crude oil. About 7,000 birds were oiled by the spill. Volunteers collected nearly 4,300 of them, mainly western grebes and scoters, and brought them to makeshift rehabilitation centers. Only about 300 were released – in part given the lack of established oiled bird rehabilitation practices at the time. "There were dying birds everywhere and no one knew what to do. It was as horrible as you can imagine," Jay Holcomb, International Bird Rescue's executive director, told the San Francisco Chronicle in 2012. "It was then that we realized there needs to be an organized attempt for their care."
The International Bird Rescue was founded 1971 by Retired Nurse, Alice Berkner, and over the past few decades they have become experts in the field, developing new technologies and methods for wildlife rehabilitation.
Our expectations were set: be ready for bird poop, fish smell, possible bird bites/scratches, and more bird poop. But above all, be ready to work hands-on with aquatic birds and learn a bunch about them in the process.
Inevitable release is one of the conditions for wildlife rehab centers in California. No birds have a permanent home at either of the two IBR locations (one in San Pedro, the other in San Francisco). All birds are rehabilitated and eventually released back out into the wild. Sadly, there are occasionally birds that are unsuitable for release to the wild, that have to be euthanized, but volunteers are not required to be present for that.
I've volunteered there a few times now, and have helped clean bird laundry (birds enclosures use a lot of sheets and towels!), prepare various types of food, and assist with giving medicine to birds. Regular enclosure cleaning is performed that requires us to move birds to temporary enclosures while we clean and spruce up their space. Also, holding, moving, and weighing baby egrets, terns, and gulls is fun—they are unbelievably cute!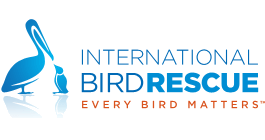 The San Pedro facility is top-notch. They have numerous indoor enclosures, exam room, surgery area, and oil cleaning stations. Outside there are two large outdoor aviaries for gulls and pelicans, a few medium-sized aviaries, and a number of pelagic water pools for birds that never come to shore. It is very impressive.
I look forward to learning more about care for these wonderful birds and hope to attend a release eventually. I'll be spending some time there each weekend for the foreseeable future.
IBR has a very small number of paid staff, as the majority of their expenses are allocated to wildlife care and reserved for oil spill response. They depend heavily on volunteers, so if you or someone you know are looking for a great volunteer opportunity and can dedicate 4-hours minimum a week, check out International Bird Rescue.